---
The Human Condition:
Courage in Authority – October 14, 2018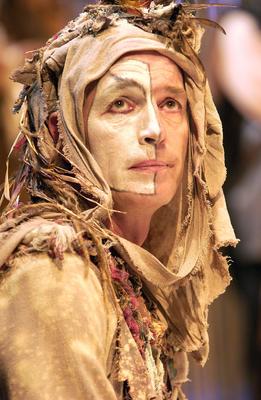 King Lear's Fool
We have a young man on the board of directors of our condominium homeowners association who is consistently negative. He routinely predicts disaster in every situation. If someone proposes a solution, he calls for more consultants, more bids, more analysis, more legal review. He always criticizes proposals and decisions by other board members for their lack of "doing their homework" and "due diligence," or their failure of "fiduciary responsibility." If he offers a solution of his own, it is numbingly complex—if not self-contradictory—and hedged with so many technical and legal caveats that it becomes simply unworkable.
He has been responsible at times for bringing the entire organization into a state of paralysis. And if other board members vote for a motion that seeks to override his objections, he always votes against it or abstains, in order to preserve his right to later criticize the decision. Yet he never considers—or offers to take responsibility for—the negative consequences of action postponed or prevented by his criticisms and time and money spent on considering his objections.
If this young man, his attitude, and his effect on the organization were unique to our homeowners association, this might make a good story but would hardly rise above a curious local anecdote. The truth is, we see this kind of negativity too often in our current politics on both a local and a national level—and too often in the corporate and other spheres. Problems are insurmountable. Solutions are insufficient, infeasible, unprincipled, illegal, or unconstitutional. Nothing can be done but, at the same time, the situation cannot be allowed to continue.
The position of the naysayer, the delayer, and the critic is an easy one to assume. It involves no great courage to demand that the organization take more time to consider, seek another opinion, gather more data, investigate all possibilities.1 The organization usually places no blame if we don't perform an action, approve a decision, praise or support a member, or confirm a vendor. For if the action or decision is not made, or the person or situation is left in a state of uncertainty, there is no discernible result that might later be examined and criticized. It's a no-lose position for any member of a group to take.
What requires courage is to take action, make a decision, or give your approval and blessing to another person or group. Of course, the action might fail, the decision lead to disaster, and the person in question turn out to be a liar, a thief, or a scoundrel. Those possibilities always exist. The best that anyone can do is make a judgment based on available data, personal experience, imaginative projection, good founding principles, and common sense. After that, the outcome is in the realm of probability or—in an older view—the lap of the gods.
Any position of authority requires such courage. Even when an organization has a second in command, a board of directors or council of advisors, a legal and technical staff, and an on-site actuary, most decisions come down to one person willing to act—or to formulate and spread a vision upon which others can take action. Any deliberative body, like a senate, assembly, parliament, or a condo board will, on any one issue, look to the person who will take the lead to find or imagine a solution, provide arguments for it, defend it against its critics and naysayers, and call for action or a vote.
That person must inspire confidence among those who will vote for the solution or be required to act on its implementation. They must believe he or she is a person of integrity, sound judgment, and experience. Moreover, they must believe he or she is acting in the organization's best interest and not for personal advantage.
But still, the person in authority is taking a risk. If the action or solution fails, the proposer or promoter will be labeled a failure along with it. Even if the proposal had a unanimous vote behind it, the leader who complains, "But we all agreed …" is taking a weak position. The rest of the organization will simply respond, "Yes, but we agreed with you!"
This is why we ask of people in authority that they possess and demonstrate courage along with their other qualities of experience, judgment, integrity, and sobriety. The CEO of a corporation, the captain of a vessel, the pilot of an airplane are all required to take responsibility for their actions. They must make judgments, recommend and follow courses of action—sometimes in an instant and without recourse to advice, consultation, and second opinions—and trust that the people around them—subordinates, employees, crew, vendors, suppliers—will perform appropriately. And if the performance of the people undertaking the action, or the mechanism of the ship or plane itself, were to fail, then the CEO, captain, or pilot stands ready to take the blame. If the person in authority did not have this courage, then the company would never do anything, the ship never leave the dock, and the plane never leave the ground.
It's a simple lesson: Action takes courage. Delay is not always wise or safe. And the path forward leads upward and requires strength.
1. For the role of the leader in making a decision, see the story of "five heartbeats" in The Immediacy of Life from April 29, 2018.