---
The Human Condition:
The Myth of Powered Armor – October 6, 2019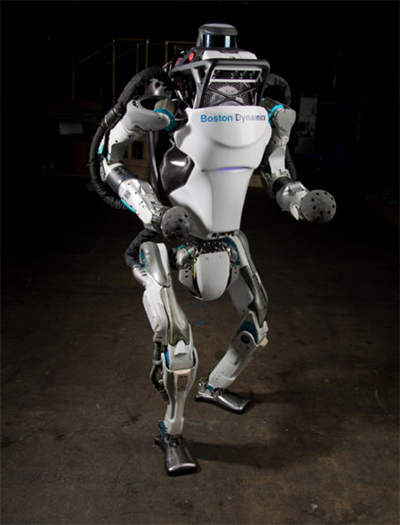 Boston Dynamics robot "Atlas"
I have been re-reading William Barton's When Heaven Fell, about Earth and the rest of the galaxy being overrun by our computer overlords with the assistance of the finest fighters among the universe's species—humans, it turns out, among them. In the novel, powered armor with semi-magical properties of endurance, impenetrability, stability, and power supply plays a big role in battles, turning frail human bodies into invincible supermen, something like the comic-book hero Ironman.
Soldiers in the field do need some kind of protection against shrapnel and spent rounds, like helmets and sometimes a "bulletproof" vest. This is all light, unpowered body armor, more a guard against scrapes and cuts, concussion and sucking chest wounds, than invincible Ironman stuff. But the impact of large rounds and high explosives will defeat the purpose of anything you can feasibly wear on your body. We have known since World War I that anytime a human crew has to move into a shitstorm of firepower, you put them in an armored vehicle: a tank or personnel carrier. And that was a hundred years ago.
Today, we try not to put people into these situations at all. If there is immediate, lethal, unrecoverable danger, we will send a drone or a robot. With current technology, a robot's responses are limited, so we use them in static situations like investigating unexploded bombs and entering for surveillance purposes buildings that are about to collapse. But as robots and automata become more agile, dexterous, and intelligent—through the marriage of AI to machine bodies—we will use them in more active roles.
We already fly unmanned aerial vehicles, UAVs, by remote control to perform surveillance and ground missions like bombing and strafing where a human pilot's endurance, attention span, and bladder capacity might not hold out in the cockpit. Instead, the pilot sits on the ground, in a comfortable chair equipped with a videogame console, and flies the vehicle. If he or she needs to take a "bio break" (as we used to call it at my old biotech company), the pilot can pass control to another human or put the machine on autopilot. With satellite communications, the pilot does not have to be in the same country, not even in the same hemisphere, as the active machine itself.
And that's just today. Again, with the mating of AI and better machines, we are not far from fielding a legion of robot soldiers that can act independently—or under the satellite control of a human expert sitting comfortably in a chair—to conduct our wars. One of the great lies told to American audiences came in one of the Star Wars prequels where the fighting robots were depicted as fragile imbeciles. One blaster shot, or even a sharp jab with a human elbow, and they fell apart. They moved stiffly and stupidly, and they were mowed down by ranks in combat. Maybe war is stupid, but its machines won't be. The robot warrior of the future will be more like the Terminator and less like an animated broomstick.
The trend away from putting humans in harm's way started, I think, in the 1970s. We sent people into space, into orbit, and to the Moon in the 1960s and early '70s as a matter of national pride and endurance—and it was glorious. But we never went back, and not for reasons of economics or public boredom. We have no reason to go back to the Moon in human-rated ships and spacesuits. What we need to know, we can find out with satellites in orbit and robots on the surface, which are far more robust, cover more ground, and don't suffer from inattention and boredom. Sending humans to do observation, research, and gee-whiz science experiments—dropping a feather and a hammer in the vacuum on the Moon's surface—is valuable only for the "you are there" experience. Humans looking through camera lenses and probing with sophisticated equipment whose reach exceeds our five senses can cover more ground at less expense.
It's even less important to send human beings to Mars and the other planets: other than astronomical, atmospheric, and geological studies—plus the off chance of discovering traces of life—we have no pressing economic need to colonize these distant and hostile environments. Not when so much of our home planet is easier to get to, make habitable, and profitably exploit for a much larger proportion of our population.1 It would be easier to level the top of Mount Everest and then build and supply a five-star hotel with Olympic swimming pool there than to put a habitat on Mars. Actually living on Mars, after the novelty and the science experiments had worn out, would be tedious beyond belief.2
When we need to go back to the Moon, or on to Mars or Alpha Centauri, to establish a human base and the a prioris for colonial expansion, we will do it handily. We will build on what we learned in the 1960s Space Program and in other endeavors like deep-sea exploration, cybernetics, and our robotic explorations. Sending and attending to human bodies will then be a subset of existing technologies. But human beings living in domes or underground, visiting the surface only with robots or in spacesuits—think mobile, compact, Earthlike habitats—will not be the point. Eventually, we will have to terraform the planet or moon.
This is not an easy prospect. Terraforming first of all implies a breathable atmosphere. We humans like 78% nitrogen, 21% oxygen, and 0.9% argon or other inert, nonpoisonous trace gases. We like a surface pressure of 14 pounds per square inch, although that's negotiable within a few pounds either way. And our lungs are pretty delicate, so we don't like nonnegligible amounts of fine dust or spores or hostile proteinaceous substances. The Earth can hold this atmospheric mix at this pressure because of the planet's size, volume, and density, and so its mass and surface gravity.
The Moon can't hold on to much of any atmosphere because its gravity is one-sixth that of Earth: all of the gases—which are in constant motion on a warm body, especially under the bombardment of the solar wind—take one bounce, exceed the gravity's escape velocity, and fly off into interplanetary space, leaving a vacuum. Mars, with a surface gravity only two-fifths that of Earth, can't hold on to any molecule much lighter than carbon dioxide. And even with that heavy molecule—which flows down onto the floor and into depressions when released on Earth—the Red Planet supports an atmosphere with a pressure only 1% that of our home. Think of flying a jet up to about 80,000 feet—more than twice the height of Mount Everest—and opening a window; that's the atmosphere of Mars.
Terraforming any planet that does not have Earthlike geodetic specifications3 would require adding significant mass to the planet—something we cannot currently do—or running the atmospheric processors overtime at high pressure to make up for the gases lost to escape velocity. Either way, it's going to be an expensive proposition, and the result will probably not be stable enough for people to bet their lives on.
No, human beings are not going to become super soldiers in their own frail bodies, or go out among the stars in their shirtsleeves, until we can solve some intractable problems of materials, mass, and energy supply. But when we do solve those problems, the sky will no longer be the limit.
1. And as for mining the asteroids for their mineral riches, when the time comes it will be much better to send intelligent machines than clumsy and inattentive human beings in spacesuits.
2. Oh, we'll do it. After all, we have a continuous human presence at various national bases on Antarctica, and there is still scientific work to do. But no one moves there to live—to colonize the continent, make a life, and raise the next generation of "Antarcticans."
3. And then there's Venus, which is the most Earthlike of this solar system's planets. But, because of its atmospheric composition and fractionally greater proximity to the Sun, the atmosphere is a high-pressure Hell composed of hot carbon dioxide laced with clouds of sulfuric acid.