---
The Human Condition:
Public Service – April 20, 2014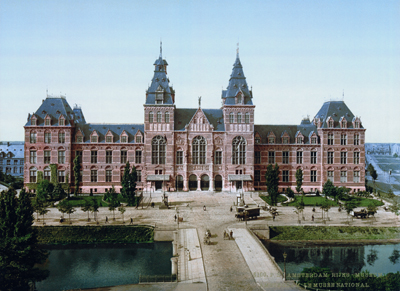 Rijksmuseum in Amsterdam, ca. 1895
Twenty-odd years ago, when we were traveling in Europe every other year or so, we spent two weeks in the Netherlands, staying in Amsterdam at a delightful old hotel1 and making day-trips by rail around the country and, on one occasion, up to Cologne, Germany. The Netherlands is a neat and orderly country that practically defines middle-class, mercantile, civic virtue.2 One of the things you hardly notice—unless you ask, as I did—is how well managed the canal system is. For a city laced with concentric-ring canals, their walls lined with houseboats where people actually live and, presumably, flush their toilets, the water looks relatively fresh, rather than green and stagnant.
The other aspect of this waterborne city that I didn't appreciate until we got up to Cologne was that the canals are all maintained at the same level year round. This was especially apparent in the neighborhood of the Rijksmuseum, which faces the Singelgracht—the outermost of the ring canals—about a third of a mile from the Amstel River itself. The museum grounds slant down to a low coping along the water. Across the canal there is a stretch of green lawn, and again, its edges are right on the water.
We made our trip in the springtime, late March, which is a good time to travel in Europe: minimal crowding and temperate weather, if you don't mind occasional rain showers. What drew my attention to the state of the canals in Amsterdam was the state of the Rhine in Cologne. The Rhine was in flood, twenty feet over its banks. The riverside parks and their trees were well under water, and the tour boats were tied up to floating docks separated from their ticket kiosks by fifty feet of swollen river. Cologne's waterfront was out of commission, while the Netherlands cities we visited—which are pretty much all waterfront—sailed placidly on.
I made a point of asking about this, when we got back to Amsterdam, and was told that throughout the city there is a system of locks and gates—which work like valves—to maintain the water level and move it through the canals to keep them fresh. These gates are under the control of the nearest householder, who has a daily and weekly schedule for opening and closing the sluices. If the householder goes out of town, he is expected to have a neighbor take over the duty. I suppose the schedule was originally worked out by the Ministry of Water Management, but the execution is local, personal, and responsible.
It's a lovely system. If people want a clean city and fragrant canal right outside their home, they must take a few minutes every day to turn a valve and then later remember to turn it off. They act like adults, like good citizens.
You would think it could never work here, in American cities, where people spit on the sidewalks and worse, where they drop candy and fast-food wrappers ten feet away from a litter basket, where the focus is on "what can I get away with" rather than "what can I do to help." And you would be almost right.
Americans used to have a strong sense of civic duty, and it's still apparent in many small towns, where the fire department is run by volunteers, everyone comes together to plan the Fourth of July parade, and people still hold church bazaars and bake sales for good causes. But I can tell you from experience, it's not just a small-town thing.
Next Saturday, the last Saturday of the month, is "Christmas in April," which is now managed nationally by the nonprofit organization Rebuilding Together. It's a day when people gather in teams—often sponsored by their company or community group—to repair and paint public housing, local facilities, and schools. I participated in a number of these events, and helped organize one, when I worked at Bayer Corporation in Berkeley.
At the last Christmas in April I attended, where we patched and painted the offices of an organization doing public advocacy for people with disabilities, I was sitting at lunch with Bayer's site manager, who was an American, and the operational manager, who had come over from the parent company in Germany. I looked around and commented that the event was like an old-fashioned barn raising. The site manager just smiled at this, but the operational manager was mystified. "What is a barn raising?" he asked. I proceeded to explain the reference, and he said, "In Germany we do not have this." I would guess not, as Germany has not been a frontier country with a pioneering spirit for about fifteen hundred years.
Another major volunteer opportunity in California is Coastal Cleanup Day, which is held on the third Saturday in September—this year on the 20th. People around the Bay Area and along the coasts and waterways join in local events which are organized by their town, community group, or company to pick up trash and debris on beaches and waterside banks. The local organizers usually make a game of it, awarding prizes for the strangest or most disgusting found objets. The statewide Coastal Commission also asks participants to record and track the types of trash collected, so they can gauge the effectiveness of litter-prevention and environmental programs.
For about a dozen years, my wife was a member of the Monday Day Crew at The Marine Mammal Center in the Marin Headlands west of Sausalito. The center rescues sick and injured seals and sea lions, nurses them back to health, and releases them to the wild. It has a few permanent staff members—mostly professionals in animal health—but the place is organized and run by volunteers, who learn how to handle the animals, feed them, clean up after them, and manage the facility.3
Another local volunteer opportunity is ushering program at the nonprofit Berkeley Repertory Theater—something both my wife and I have done, although she's more of a scheduled regular and I'm just a fill-in. In exchange for a couple of hours taking tickets, handing out programs, showing people to their seats, and policing up after the show, you get to see a professionally performed play of national reputation—and sometimes one in its first run anywhere.
The point of this meditation is that the spirit of civic duty is not dead in America. Not at all. Our people still have some of that pioneering spirit where, if you want a good thing to happen, you go out yourself, get your friends and neighbors involved, and make it work. We don't wait around for someone from the government to fix the problem or create the opportunity. We do it ourselves. … And that's a strength.
1. The Roode Leeuw ("Red Lion") on the Damrak. The building is 15th century; the establishment dates from 1911; and the service is professional yet wonderfully homely and friendly. The waiter at our table in the dining room spoke English, French, German, and Italian as well as Dutch, and it was a hoot to listen to him as he worked his tables.
2. If you can avoid the vapid sadness that is the Red Light District and ignore the aggressive young men peddling marijuana to tourists on the way into town from the train station.
3. One of the veterinarians at The Marine Mammal Center, a woman from the Netherlands, once told my wife that such a volunteer-run organization would never survive in Europe. "The women might volunteer to come in and pet the animals, maybe—but to shovel their poop? Never!"